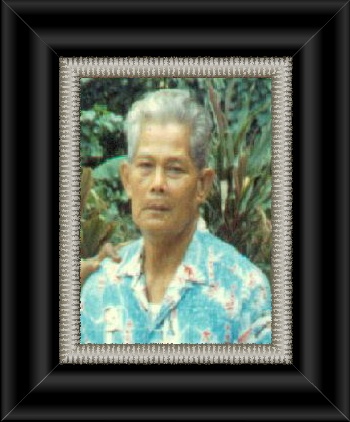 Juan Beligio Sithar
Maternal Grandfather

June 15, 1895 - February 11, 1973
Juan was born on June 15, 1895 in Iloilo, the island of Panay, in the Philippines. He arrived in Hawaii, as a Sakada in the early 1900's. He met and married our grandmother Anastacia Hamole
Hoopii
while they worked the pineapple fields of Makawao. Grandfather Juan arrived in Hawaii aboard the ship Mongolia, the name he used was "Geronimio Sitjar" which may have actually been his elder brothers name. His age is listed as 20 and he arrived in Honolulu on November 12, 1912. Mahalo Uncle Jerry Sithar for this photo of Grandpa Sithar.
Memorial
Granpa passed away in February 11, 1973 at the age of 77 in Kahului, Maui. My memory of him is he was a hardworking & humble man, he was a laborer in the Pineapple fields, then at Kahului Harbor he worked many years as a stevedore. He faithfully served in the military, and the American Legion. In his elderly years, I always admired the way he kept himself busy. His memorial is located at Makawao Veterans Cemetary.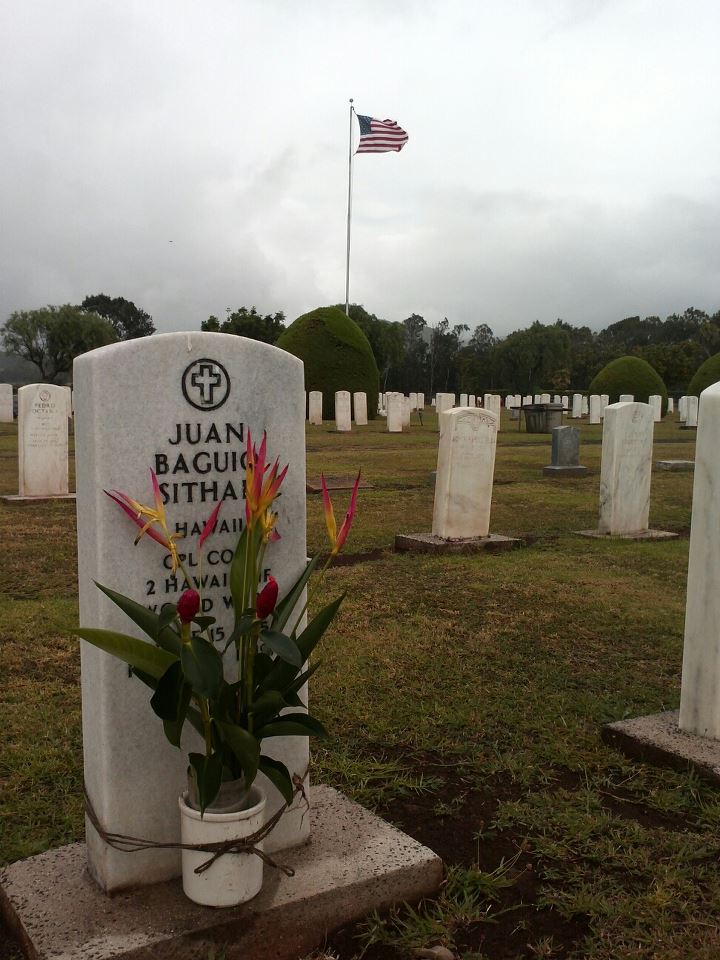 Agustin Sitjar
Great Grandfather

According to his Social Security application, Juans Fathers name was Agustin Sitjar. Agustin was probably a decendent of spanish settlers on the island of Panay in the Western Visayas. According to records, Agustin Sitjar was married to
Anacleta Abaligio
. Anacleta could have been a decendent of the Panays native people, or Spanish/Filipino mixture. Source: Social Security Administration
Sithars
Leilani, Leimomi, Maile
Mom and Aunties

Puunani & Juan
Cousin & Grandpa

Elizabeth Hailani & Ana Hamole
Great Grandma & Grandma

Gerinomo B. Sithar
Uncle Benny Sithar

Leina, Leilani, Maile, Benny,
Kuulei, Leimomi & Juan Jr.
Sithar Aunties & Uncles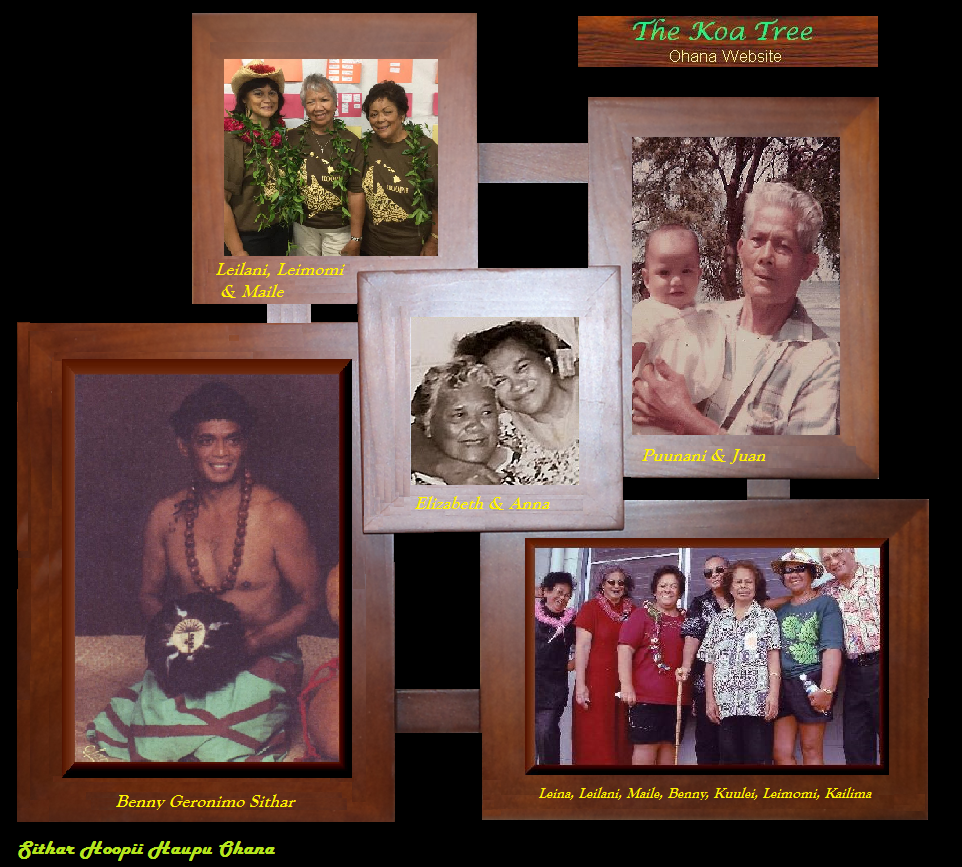 Sithar Hoopii Haupu Ohana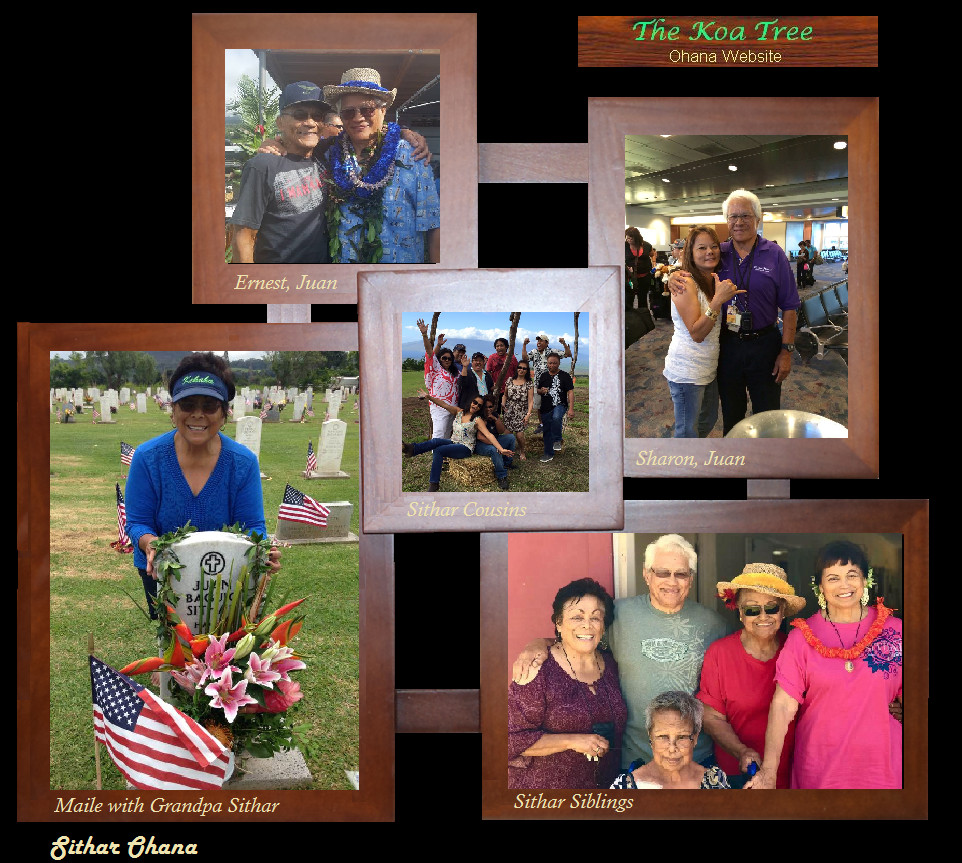 Sithar Ohana
Sithar Ohana
Ernest & Juan
Uncles


Sharon & Juan
Cousin & Uncle


Sithar cousins
Sithars


Aunty Maile
Aunty Maile Sithar


Maile, Juan Jr. Leina
Leilani & Kuulei
Sithar siblings
Spanish influence in the Visayas.
On March 6, 1521 the Portugese explorer Ferdinand Magellan, sailing for Spain, discovered the Philippines, less than one month later he would be killed there by warring tribes. In 1566, the Spaniards under Miguel Lopez de Legazpi came to Panay, and established a settlement in Ogtong (now Oton, Iloilo). He appointed Gonzalo Ronquillo as deputy encomiendero, who in 1581 moved the seat of spanish power to La Villa de Arevalo, named in honor of his hometown of Avila in Spain. By 1700 due to recurrent raids by Moro pirates, Dutch and English privateers, the Spaniards moved to the village of Irong-Irong, where close to the mouth of the river they built Fort San Pedro. Irong-Irong or Ilong-Ilong which the Spaniards later shortened to Iloilo later became the capital of the province.

Gerona Spain
Research reveals the 'Sitjar' name originated in spain according to Mormon archives. The following Sitjars were from Gerona, Spain from the 1500's. Sometime after the 1500's Sitjar's began settling the philippines.
Ann Baneta Geronima (Sitjar), 1509
Anna Francina Latzara (Sitjar), 1545
Island of Mallorca
New information from Miguel Sitjar in the Philippines. He writes to me in an Email that the Sitjars were from an Island off the coast of spain called "Mallorca" earlier than 1500. Mallorquins were skilled sailors, and may have been with Magellan when he discovered the Philippines.
Mallorquin History